Helping Federal Government Agencies Achieve their Mission with a Secure, and Agile Infrastructure.
Federal IT organizations have never faced more difficult challenges: cyber attacks, moving to mobile devices, consolidating data centers, deployments in the cloud, complex application environments, and ever increasing network traffic. And, don't forget to consider constant budget constraints demanding smarter, and more affordable solutions that make government systems more secure, resilient, and modernized to today's threats. With these evolving conditions, agencies find it increasingly difficult to provide users with secure and reliable access to the applications and resources they need. The resources they need now at any location and on any device. F5 assists today's federal agencies with a variety of solutions to combat these problems.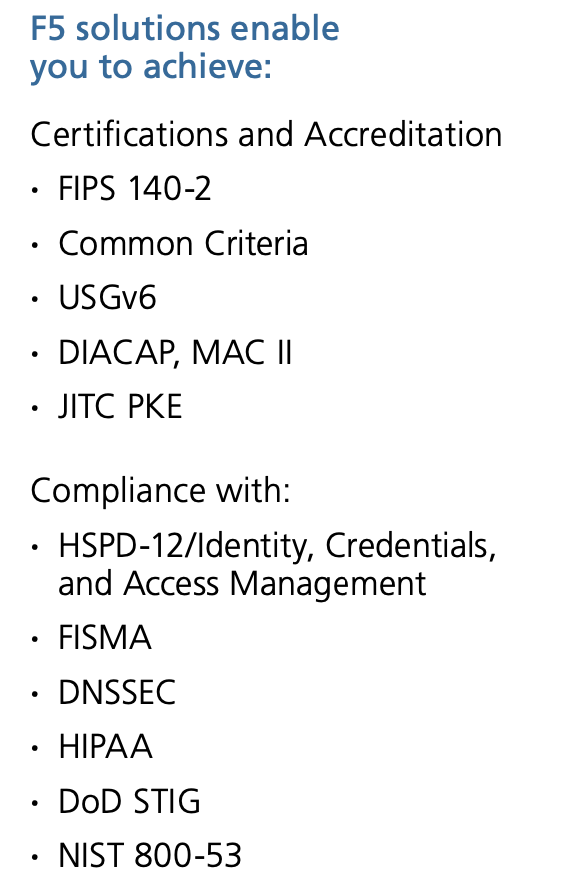 F5 enables government agencies meet the growing demands of mobile workers, applications, data, and video traffic—while enhancing security and controlling costs. All 15 executive departments of the U.S. Cabinet alongside countless defense, civilian, and intelligence agencies rely on F5 to help them create the secure, agile infrastructures that enable them to achieve their missions.
F5 Products and Solutions:
App Security and Development
Traffic Management
Infrastructure Security
Multi Cloud Management
Software Defined Hardware Appliances
Automation and Orchestration
NGINX
VIPIRION Chassis and Blade
---
TVAR Solutions is a small business technical value added reseller. TVAR Solutions is an authorized F5 partner. Contact us for more information on F5 products and solutions. If you are looking for another solution Click here to go back to view our partners.