Technology to Accelerate Your Federal Agency
As mission and end user needs evolve; technology can increase public sector operational effectiveness, improve workplace efficiency, support employees and warfighters, along with providing constituent services that are innovative, integrated and secure at the core. Hewlett Packard Enterprise provides next-generation technology and services to provide a resilient and agile IT foundation to meet your needs – from data centers, to multi-cloud environments, to the intelligent edge. TVAR Solutions is a small business value added reseller and trusted partner of HPE products.
HPE's award-winning product lines meet the stringent requirements of several certification programs. These programs include Common Criteria (The Common Criteria for Information Technology Security Evaluation), U.S DoD UC APL (The Department of Defense Unified Capabilities Approved Product List), FIPS 140 (Federal Information Processing Standard (FIPS) 140), and IPV6 (Internet Protocol v6).
Nimble Storage
Intelligent, self-managing storage that frees you to innovate for your business. Enterprise storage today takes up too much of your time—time spent managing, upgrading, and fighting fires. It's time to elevate your storage experience with a platform that unlocks IT agility, ensures apps are always-on and always-fast, and extends across hybrid cloud. It's time to experience HPE Nimble Storage. Dependency on data is increasing, and data growth is accelerating, but the threat and risk of data loss is growing in both variety and volume. Intelligent, self-managing flash storage can help you deliver fast and reliable access to data, regardless of the size or data storage requirements of your organization. Nimble Storage allows you to add additional storage or update old arrays. Utilize flash arrays (all-flash or adaptive flash), dHCI (Disaggregated Hyperconverged Infrastructure), or hybrid cloud solutions.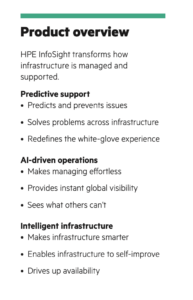 InfoSight – Providing Reliably Fast, Radically Simple, Cloud Connected.
HPE Infosight provides artificial intelligence for autonomous infrastructure. Optimize performance and predict and prevent problems by adding AI-driven operations that combine cloud-based machine learning with performance monitoring.
HPE InfoSight puts the focus on prevention. It uses predictive analytics to predict, prevent, and auto-resolve problems from storage to VMs before they can affect your business. Hundreds of predictive signatures from availability, performance, security, capacity, to data protection are continuously monitored in every system across the installed base.
If there is ever a problem experienced in the installed base, HPE InfoSight learns to predict the issue and prevent anyone else from seeing the same problem.
SimpliVity
Picture a hyperconverged architecture that's evolved beyond software-defined to AI-driven — and delivers self-managing, self-optimizing, and self-healing infrastructure. With VM-centric management and mobility, built-in backup and DR, and game-changing data efficiency in an architecture that's optimized from data center to edge, this is far beyond the HCI you used to know.

Primera
Answer all your mission-critical application challenges with HPE Primera. Finally, intelligent storage that leverages autonomous operations to enable predictable performance at scale — and consolidation for all your apps. Built with the agility of cloud and powered by the intelligence of HPE InfoSight, HPE Primera delivers instant access to data with storage that sets up in minutes, upgrades transparently, and is delivered as a service.

HPE Primera redefines high-end storage with unparalleled simplicity, extreme resiliency and performance, and the most advanced intelligence in the industry. With its latest release, HPE Primera now enables unprecedented IT agility and application acceleration via autonomous operations, all-NVMe, enhanced business continuity, and support for the CSI-Driver for Kubernetes and VMware vVols.
---
TVAR Solutions is a proud partner of HPE. For more information, please contact us.