Modernize Your Infrastructure
Dell EMC's Solutions for Microsoft Azure Stack is built on software defined compute, storage, and networking features of Microsoft Windows Server 2019. This product delivers a fully productized, supported and validated HCI solution that allows enterprises to upgrade and modernize their infrastructure for improved application uptime and performance. HCI allows simplified management and operations, and lowers the total cost of ownership. The Dell EMC S2D Ready Nodes are powered by industry leading PowerEdge server platforms to offer a high performance, scalable and secure foundation building a sound software defined infrastructure.

Together, Dell EMC and Microsoft have created a smooth, cost-effective pathway for enterprises to achieve hybrid cloud on-premises environments with connections to cloud services that capture the high business value of a software-defined data center (SDDC).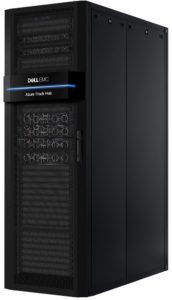 Modernize Edge & Distributed Sites
Simplify IT Operations
Improve Application Performance & TCO
4 Key Criteria for Selecting the Best HCI Provider
Dell EMC and Microsoft HCI solutions provide customers with confidence since proven configurations are fully tested and validated by Dell EMC and Microsoft. They also deliver the convenience of fast, simplified deployments; and solution-level, one-call customer support for peace of mind.
Interested in learning more? We can help! Let's find out if the Dell Microsoft Azure Stack HCI is right for you.
---
Other Related Dell Products: